Liana Zhou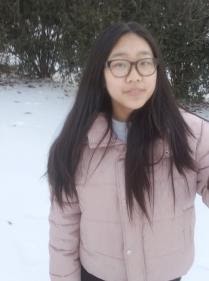 Q. Tell us a little bit about yourself.
A. I'm an eighth grader at Clague, I'm a girl, and I'm a Gemini. I like reading, and I like hanging out with friends. I like interesting socks, and I like TikTok and Pinterest and clouds. And I love water. And I really like interesting socks. I also like watching anime and k-drama. Gossip Girl is my favorite TV show ever.
Q. What has been your favorite part about this school year?
A. I liked meeting my teachers. My favorite part of this school year was getting to see people during this difficult time. I've also enjoyed having a lot of alone time.
Q. What is one goal you have for this year?
A. One goal I have for this year is to be happy, to be safe, and to not be depressed, and to be able to sleep well
Q. What is your favorite class and why?
A. I would say [A] biology, because I like learning about new stuff there.
Q. What hobbies/sports do you do?
A. I like swimming. I like listening to podcasts. My hobbies also include decorating my room and watching movies and TV shows.