Alison Muehlman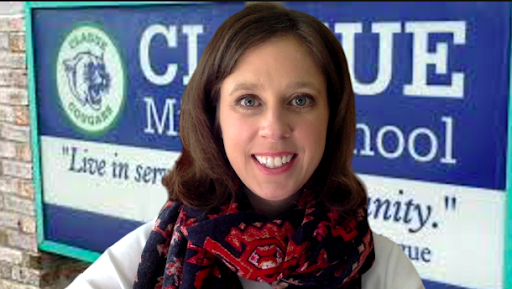 Q: Tell us a little bit about yourself.
A: "I am currently the 6th grade counselor at Clague. And I've been an educator for many years now, 14 years. First, I was a teacher. And then I moved into counseling and have been counseling for the last 7 years. I have worked with students in kindergarten all the way up through 12th grade in a variety of roles: for example, being a classroom teacher or a counselor. A little more about me: I love to spend time with my family and friends. I also love animals. But mostly, I really love teens and preteens. I really love working with adolescents."
Q: What has been your favorite part about this school year?
A: "I have really enjoyed getting to know kids one on one in Zoom. For example: getting to know who they are, where they went to elementary school, what their goals are, and supporting them. That has been really fun. I've been enjoying learning to use all this new technology. I think another favorite part about when I am meeting with kids and families is seeing all the funny things that their pets do in the background. Sometimes, like I will be on a zoom call, and the cat would dive-bomb the zoom call and just some funny things have happened that made us all laugh and remember that we're all in this together."
Q: What is one goal you have for this year?
A: "Hmm, I have a lot of goals for this year, but my top goal would be that even though we're learning online, my first priority is to get to know as many of my students on my caseload as possible. That is a big goal that I have and I am trying very hard to do that. I drop into classes, I invite kids to my zoom room. Another big goal I have is to continue to shape the vision and further develop our whole counseling department at Clague middle school. Every year, we get a little more proactive in providing support for students and a little more inclusive to make sure reaching all kids and meeting their needs."
Q: Why did you decide to teach as your career?
A: "I really love working with people, that is probably my strongest skill set is understanding other people working with them, teaching them how to be successful, and navigate life. It was a lot of fun for me to do it. It is very rewarding when you work with students and they learn and grow. When they come back to visit, you can just see how much they've grown and changed. It is a really rewarding experience to know that I impacted a life."
Q: What hobbies/sports do you do?
A: "A big hobby for me is reading. I love to read, I am kind of a bookworm. I really enjoy cooking. In terms of sports, I like to go hiking. I don't really know that if that is a sport. I like to dance and do zumba and yoga. Like even though I am an adult now, I still love dancing. Sometimes, I just look at youtube videos and try to go for it and learn different dance moves and sequences. When I was younger, I used to do ballet, tap, jazz, and lyrical. Yeah, so I grew up doing it."