Problems in the Bathroom: Can We Do Better?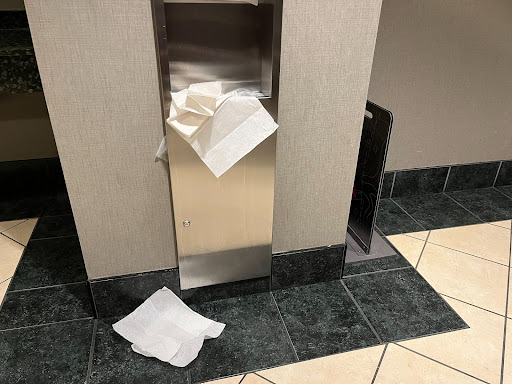 Lately there have been problems in the bathroom; it has become chaotic.
Paper Towels
People are putting paper towels everywhere on the bathroom floor. There are several bad points. 1) It is messy. 2) Since the scene is messy, germs can flow around. 3) People can slip from the paper towels. Some people just throw paper towels on the floor. If they drop the paper towel, they do not pick up the paper towel — "It's like a garbage dump," said one student. Wasting rolls of paper towels can raise the school's paper towel expenses. Also that's not all. The school also supplies lots of paper too, so if we keep up this, we can lead to serious expenses of paper use in the school. So you should try not to litter, but if you drop a paper towel, no big deal as long as you pick the piece and put it in the trash can. Not so hard, is it?
Liquid on the floors
Lately in some bathrooms there had been near collision reports of people slipping from liquid on the bathroom floor. There are many bad points, too. 1) As mentioned above, people can slip. 2) People carry germs. If you step on unknown liquid on the floor then leave the bathroom, and put their feet on the table or chair or other areas, the next person using the chair will then have germs on them. This is just gross. If an accident happens, clean up after yourselves, and if necessary, tell a trusted adult. There are ways to make sure our bathrooms stay clean. Besides, custodians are not our maids. Please clean up after yourself.