How technology has changed the way we do business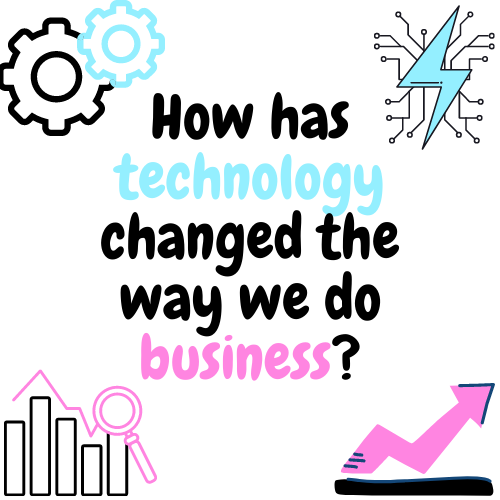 Technology. It changes the way we live our daily lives. We don't need to write letters and wait for days for a reply anymore. We can just type an email or a text message and get a response in minutes. We don't need to travel around the world to meet our families. We can just use video chat. 
"Technology has changed our lives in so many ways, especially in the past 12 months,"  said Karen Eisley, former Business/CTE department chair at Huron High School. "We now have up-to-date information all the time so we can try to make better decisions."
Business, on the other hand, allows people to have jobs, and earn money to support themselves and their family. Society itself would hardly exist if it weren't for business.
But how are those two important things connected?
"We use technology when we answer phone calls, schedule appointments, prepare financial information, and just communicate with each other," Eisley said. "We now have instant information."
Now, let's go back in time and talk about the past. It was not until the 19th century that innovations in technology started to rise. Before, people did business slowly because of the lack of tools that would help them move things faster. At the time, everything was done using their own hands, sometimes relying on the help of basic tools. 
But now that our modern world has digital workspaces like Microsoft Teams, Citrix, and more, many business managers are reconsidering traditional work and contemplating if they even need physical offices. 
"Many of us rely on technology to do business now, more businesses are operating from home offices and virtually from all over the world," Eisley said. 
However, even if employers are being incredibly flexible, they wouldn't be able to satisfy the customers. Customers want everything here and now, and employees are expected to finish with high-quality work, with only a little time to do it. This is why we are so fortunate to have technology by our side.
Think about Amazon. Can you believe that it was just a small little bookstore when the company was first created? Now, Amazon is one of the most used online stores in the world. You can just buy something with a few clicks of a button. How? Just like several other businesses, technology.
What about social media? You may think that social media has nothing to do with business, but social media is the world's largest pool for market research. On Twitter alone, over 6,000 tweets are posted. Per second. Although much of the appeal of social media to marketers derives from what users like, share, and retweet, more forward-thinking analytics will use this data to extrapolate what people are thinking and feeling, what ads are effective and what aren't, and how best to connect with their audience.
And stocks. 
"Technology is updated constantly and the internet serves updated information to us all the time. People now have stock market information at their fingertips and they can watch what is happening on the stock market and decide how they want to manage their stocks," Eisley said. "Should someone buy certain stocks that they think they will make money with?  Should a stockholder sell their stock in certain companies if they don't think the company will make any money?  These are questions that stockholders/investors ask themselves all the time and the technology gives them information to make those decisions."
As you can see, technology has a big impact on society. It changed the way humans do everything, and still does. As technology continues to become more advanced, the world and everything inside it will evolve, including business.