To Play, or Not to Play
Among Us is an extremely popular multiplayer online game. During the pandemic in 2020, the number of Among Us players increased significantly. By September 2020, the game exceeded 100 million downloads according to "Fenlon, Wes (September 24,2020). "How Among Us became so wildly popular", PC Gamer." As people started to get more interested in the game, there are different thoughts as to whether kids should play or should not play the game.
"Kids should play Among Us because it is a fun way of trickery without getting in trouble for it," sixth grader Sami Mizyed said. 
Among Us is an engaging and social game, and it can be a fun way for kids to connect with friends. It is fun to try to hide one's identity during the game and to surprise other players at the end.
"Among Us has a very simple concept and is easy to learn," sixth grader Joshua Vesia said. "The controls are very basic, and there aren't any annoying ads. There are also no levels or upgrades, so a brand new player could play with an experienced one."
The game promotes players to collaborate. 
"Something that is good about Among Us is that it is a good team building game where all the crewmates have to work together to complete tasks and figure out who is the imposter," sixth grader Katherine Kennedy said.
Teachers are joining in the game too.
"It's a fun game that encourages players to collaborate, pay attention to details, navigate complex areas and solve problems," ELA teacher Julie Donnelly said.
The game is also multigenerational.
"Among Us is fun, and it could be a good family game if the parents also get the hang of it," sixth grader Lochlan Manthey said. 
Donnelly agrees.
"My family had a great time playing together during the pandemic," she said. "It was funny because I didn't know how to do the tasks and I got lost on the ship a lot. While my son was helping me, my daughter was stalking me and eventually killed my character. The absurdity of it all was hilarious."
However, there are also concerns for kids playing Among Us.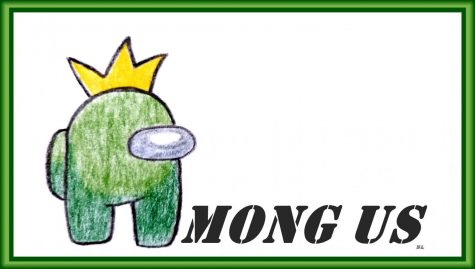 One key part of the game is the tricking and manipulation usage to win. Although trickery plays an important role for the game to be fun, as mentioned previously, there are also downsides. The game does also contain violent themes. Therefore age may be an issue for kids to play the game.
"I think that Among Us does not always support good behavior such as it encourages lying to others, so I do not think that it is a good idea to introduce the game to young kids who are very susceptible, and may later believe that lying is a good thing," Katherine said.
Because of these issues of bad behavior, the game is recommended for people aged 9+.
 "I think age is a vital thing to consider before the child plays the game. Because it is sort of a murder mystery game, I think the kids that should be playing the game should be 9+", said Joshua.
Donnelly addressed these concerns from a different angle.
"I think some people might not like the fact that the point of the game is to kill other crew members and sabotage the ship if you're the imposter," Donnelly said.  "People might think it's a little violent but since the players are cartoon spaceship people, it's not really that bad. Also, when a character dies, a bone sticks out and they become a ghost, however it's really silly and it doesn't look realistic in any way."
There are other concerns about playing Among Us, although they may be less a concern if kids only play the game with family and close friends. Students agree that players should be aware of strangers and not to interact with those who are negative.
All the above are some thoughts from people who play Among Us. If you are also interested in the game, what are your thoughts? Leave comments below.