Teaching Through Books: Mrs. Fleming's Mission to Get Students to Read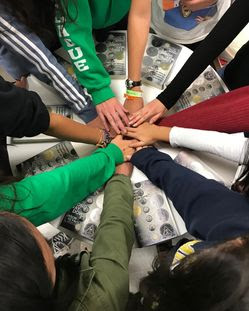 Wanting to find a way to combine two of her favorite things, Social Studies teacher of 22 years, JL Fleming, started the Cougars Care Book Club in 2018 to try to teach kids about social justice while getting them to enjoy reading and find books they like. 
"A long time ago, I was doing a lot of social justice," Fleming said. "I would do different training throughout the district. I was trying to figure out what I could do to get books and social justice together, and I just stumbled across this group called Project Lit Community." 
Project Lit Community was started by Jarred Amato, who gets donations from his students and then gathers middle grade and young adult books for his students to read. Mrs. Fleming applied to be a chapter leader for them, which meant that she would help decide what books the people in the group would read. 
"I kept finding books for the Clague students to read," Fleming said. "But, I needed funding for them because it wasn't in the budget."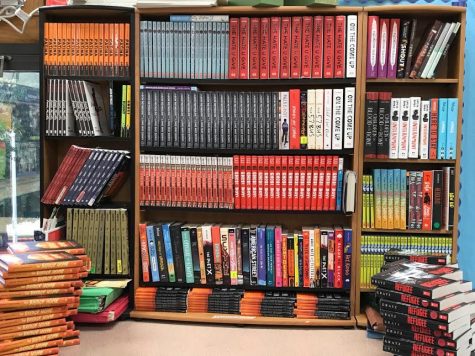 She ended up getting a grant from the Michigan Reading Association, an organization made to help connect people and groups through reading. Getting the grant was just the beginning of Mrs. Fleming's quest to get the kids to discover their love for books while being taught.
"We would participate in this thing called the Global Read Aloud," Fleming said.  
The Global Read Aloud started about 10 years ago, and Mrs. Fleming found it around the same time she started getting involved with Project Lit Community. 
"It's a really cool platform," Fleming said. 
Teachers from around the world use the GRA to read books with their classes and then connect with another group of kids from somewhere else in the world. They would also do different projects with those classes such as sending postcards and writing letters. Mrs. Fleming used this program for two years. 
"I liked it, but I wanted more," Fleming said. "So, I began teaching social studies using a lot of books."
Typically, she would read three books each year with each of the classes, depending on what the curriculum was, and she tried to line up the books with whatever was being taught in class. Finding the right books could be a little bit tough at some times, though.
"The problem is that in Social Studies, you can't spend seven weeks reading a book, so I would have to find something shorter," Fleming said.
She didn't like how the smaller books usually had a lower reading level, therefore being for younger kids, so she tried to find other ways to get the kids to engage with reading, and eventually started the book club that is still going now.
 The book club is available for any Clague students to join. They meet two Wednesdays a month from 12-1 pm and the next meeting will be sometime in the middle of March. To get more information, you can email Mrs. Fleming.