Yearbook club faces challenge of producing a book virtually
The yearbook team is working hard to make sure that the yearbook for this year really encapsulates what it has been like. 
"A few years from now, we will actually realize what we did during the pandemic from our bedrooms and think that's so cool," yearbook club adviser Sara-Beth Badalamente said. Because this time is so unusual, the yearbook team is doing their best to ensure that the yearbook for this year is even better than before. 
"I think that this has been the perfect transition," Badalamente said. "It's always tough when a teacher retires, but with us being virtual, now everyone has an opportunity to join." 
After the retirement of the previous yearbook teacher, Mrs. Reiher, they decided to turn the yearbook into a club rather than an advisory, so that anybody in all three grades would have the ability to join. 
"The toughest challenge that we're up against is that there aren't events for us to cover the way we normally would," Badalamente said. "There are no sports, everyone's been on Zoom, and we are relying on our student body to submit photos of what they're doing during this virtual time." 
They have been reaching out to the student body through Clague's principal, Che Carter, and his announcements. Every week he will put a link in for people to submit photos; that is one of the easiest ways to ensure that people's pictures will be included in the yearbook. 
"My favorite part of the club right now is watching the kids create the designs," Badalamente said. "I think there's something magical that happens. It's one thing to have a template and just throw the pictures on, but the yearbook group is actually taking grids, picking what's going where, and then putting in the content to have a really pretty result."
She sees the progression of the work from the brainstorming all the way to the physical book, which is a long and complicated process.
"Even though we've had to teach everyone about yearbook design from the very beginning, it's been very easy," Badalamente said.
She thinks that it's because everyone that's there really wants to be, and it's proven by the fact that they wake up at seven in the morning every Tuesday, an even bigger feat in the middle of a pandemic. 
"This is a very significant year that we'll want to remember, so we want to make sure that what's going into our book is really going to bring back the memories of this year," Badalamente said. 
The theme for the yearbook this year is based off of the fact that the Clague Cougars always persevere, so the theme of the yearbook this year is "un" to show that we keep being resilient, and even if we are not physically together, it doesn't mean that we can't still be strong and keep going.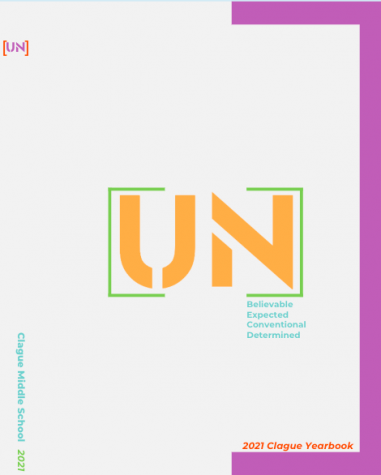 "We want to showcase that we didn't just sit in our bedrooms in front of our screens," Badalamente said. "These are all things we were thinking about, learning about, things that we actually did while we weren't in the building."
They've been doing everything that they can to guarantee that everything goes smoothly and the yearbook comes together nicely. 
"We want everyone who wants a book to get a book," Badalamente said. 
There are scholarships to apply for to get the book at a lower price because they want to make sure that anyone can buy a book. This year has been so unusual, so they want everyone to have some way to remember what it was like learning online. You can buy the yearbook here, or look in the previous emails and updates Mr. Carter has sent out. 
Even if we can't be physically together at this time, the yearbook team will do their best to make sure that in the future, we will be able to look back at this year and realize how unique it was and how we got through it.  
"I can't wait for the special moment when the yearbook comes out and everyone reads the stories and remembers this historic year," Badalamente said.