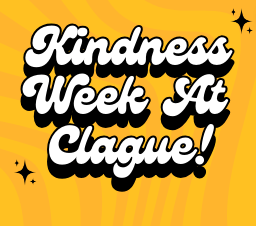 "Sometimes it takes only one act of kindness and caring to change a person's life." -Jackie Chan
Ever heard the phrase take time to be kind? Or just simply be kind? During Kindness Week, it's time for everybody to show their kindness!

Kindness Week is taking place from Nov. 13 – Nov. 17, and it is time for you to be kind. Clague students will be able to earn tickets from teachers if they are seen doing an act of kindness. 
"I think kindness is important because without kindness in the world, everyone would be starting a war or be fighting," sixth grader Aadya Desai said.

The world celebrates World Kindness Day on Monday, Nov. 13. World Kindness Day was first introduced by the World Kindness Movement in the year 1998. The World Kindness Movement was created at a conference in Tokyo in 1997. This was when Japan stressed the need for a global kindness movement by bringing kindness organizations of several nations together.

"I think it's really important to have a kindness organization because kindness is needed everywhere,"  seventh grader Jayani Tavane said. "And I have a feeling that people would be a lot happier if [the government] were giving people an organization that promotes kindness everywhere!" 
Kindness Week, of course, is not the only time you should be kind – kindness is something that has a position everywhere – but especially don't forget to be kind during Kindness Week.