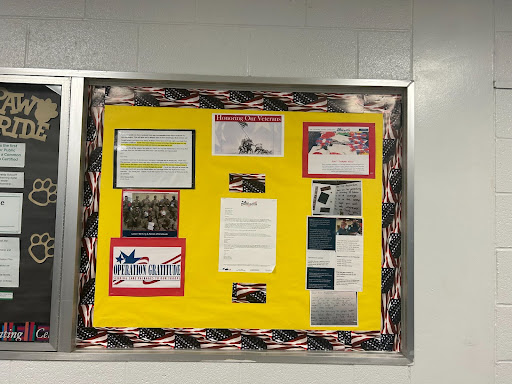 What's your favorite holiday? The following comes to mind. Christmas, Halloween, Thanksgiving, Saint Patrick's Day, or maybe Lunar New Year. But one holiday that is approaching and often overlooked, is Veteran's Day. Veteran's day is an annual holiday that takes place on Nov. 11, where it is dedicated to acknowledge the Military as well as the services they have performed—and Clague has its own way to honor this federal holiday.
"About three years ago, I came upon the request for letters of gratitude to First Responders, Veterans, and Military personnel," Clague librarian Kim McLean said. "And thought that this program would be perfect for Clague."
As a way for Clague to contribute its appreciation for Veteran's Day, it is done so with cards. This project gives Clague students an opportunity to communicate their regards for those in the Military, serving our country. 
"I actually discovered Operation Gratitude about eight years ago through a former co-worker who had a spouse in the military," McLean said.
McLean decided to introduce Operation Gratitude to Clague—a program that allows people to send care packages to those in the Military. This began Clague partaking in this operation, donating books to Military families as an expression of gratitude. Since then, letters are now sent as Clague's form of appreciation for the Military, First Responders, and Veterans.
"I have been touched by the sentiment in many of the heartfelt letters that students have written," McLean said. "Many Clague families have siblings, parents, or relatives serving our country, or are veterans, so they understand first hand the sacrifices these courageous people are making every day!
If you want to learn more about Operation Gratitude and its mission click here