Review: Wonder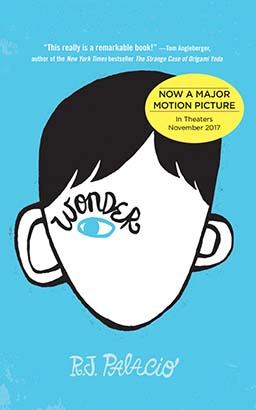 Have you ever felt like you didn't fit in or felt like you were different? Well, Auggie Pullman has. This book "Wonder," written by R.J Palacio, is all about August Pullman facing the challenges of middle school-and with a facial deformity as well. August Pullman has dealt with dirty looks and bullying throughout his entire life but he has been homeschooled for it and didn't go to school because he had always felt different. Until he was enrolled into Beecher Prep in fifth grade. Full of kids who are mean, nice and everything in between. He wishes to be treated normal, but his classmates cannot seem to overlook his unique, different face. 
I really enjoyed character development in the book, especially Auggie's. At first, Auggie was horrified by the idea of going to a public school. But as the days passed, he started warming up to his classmates and the school, even though he was treated differently. He made some friends and his attitude changed about school. He also became more and more confident in himself. 
The author's main purpose of the book is the message about the importance of acceptance and kindness. 
I would rate this book a 4.5/5 because I liked the development of characters and the adaptations of a lot of characters as well.