Cougars of Clague: Linda Baskey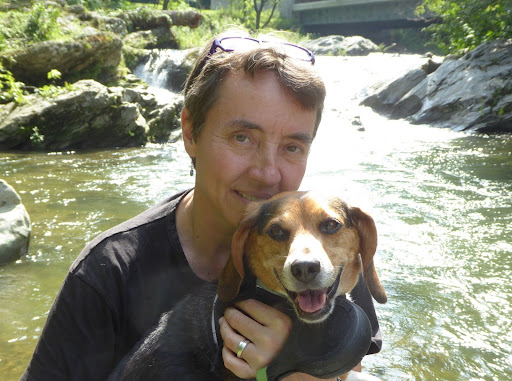 Q: Tell us a little about yourself.
A: "I grew up in Cleveland, the youngest of five kids. We played in the neighborhood with lots of
friends, and I still remember one enormous snowstorm that closed the schools for days – we
had a blast outside building forts and having snowball fights. When I graduated from high
school, I went to the U of M to study creative writing and journalism. I was also a photographer
for the school newspaper and yearbook. (My pivot to math came later .) Now I'm kept busy
raising two teenage boys and dreaming of retirement (when I hope to hike the Appalachian
Trail!)"
Q: What is your favorite class and why?
A: "When I was in middle school, my favorite classes were ELA (it was just called "English" then), history, and math. I never really enjoyed science class, except for the days we dissected animals. I also had an amazing band teacher: we recorded a vinyl album, which I still have!"
Q: What hobbies/sports/clubs do you do and why do you like them?
A: "I used to play sports (basketball and softball), but those days are mostly behind me. I've always
enjoyed reading and solving puzzles, plus I love to cook. Outdoors, my family hikes, kayaks,
and takes long walks with dogs! I started ukulele lessons a few years ago, but you should be
happy you've never heard me play!!"
Q: What is one thing you have learned since the start of the pandemic?
A: "I probably have a better appreciation for people who struggle daily against forces that are
beyond their control. It was sobering to lose such sovereignty over our lives! That said, I wish
some of the profound generosity and mercy that shone at the start of the pandemic had been
more widespread and long-lasting."
Q: What's an interesting/unique fact about yourself?
A: "After college, I joined the Peace Corps and taught for nearly 5 years in Africa (mostly in Gabon and Chad). Classes were often so big that I had 65, 75, even 100 kids in one room! My first group of students gave me a puppy, and he came to class with me every day. I think I learned more in those five years than I've learned in the 30 years since!!"