Cougars of Clague: Mina Lacin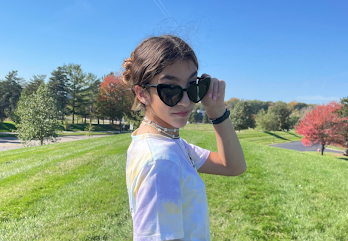 Q: Tell us a little about yourself.
A: "My name is Mina, and I am a seventh grader in Ms. Baskey's advisory. I love tacos, and I have a pet cat named Ozzy."
Q: What is your favorite class and why?
A: "Probably either math or science, since in science we do really cool experiments. Math because it gives me an excuse to use my fancy highlighters and Ms. Baskey is the best teacher because she is always making hilarious jokes."
Q: What hobbies/sports/clubs do you do and why do you like them?
A: "I play soccer for Michigan Tigers 09 gold and I like it because I get to make new friends and improve my soccer skills."
Q: What is one thing you have learned since the start of the pandemic?
A: "Once the news broke out that school was off, I was really excited. I learned that it wasn't as amazing as I thought it would be, spending a year online."
Q: What's an interesting/unique fact about yourself?
A: "I eat ranch with my pizza!"