Thoughts on Quarantine: How Teachers Feel About Teaching Remotely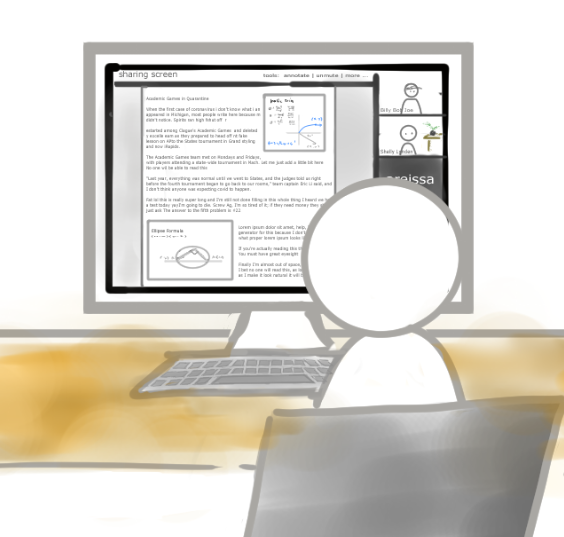 Switching to a quarantine lifestyle has changed things for everyone; the world is filled with cancelled opportunities and things people can't do. For everyone's safety, most activities, including school, are now online. During this unprecedented time, teachers have had many challenges to work through.
Band teacher Jay MacArthur has been teaching virtually since March 13, 2020.
"It isn't a better way to learn," Jay MacArthur said, "In some ways there can be fewer distractions, like no bells to end classes. But for many students, being home all of the time can create a feeling of loneliness or isolation, which is very concerning."
One of the biggest challenges faced by teachers and students alike has been frequent technology issues, which often appear at random and take time to fix. This looks different from band to more standard classes like math.
"Issues sometimes happen where kids can't get into a PearDeck, or their system is slow," Algebra and Geometry teacher Ellen Hopkins said, "There can be a lot of lag between questions and answers sometimes and it feels like some kids have answered and they're ready to move on, and for other kids it's not their fault things are lagging."
It's also difficult for teachers to keep their students' attention for the full length of classes online. Because of block-scheduling, classes are twice as long, but less frequent than in-person.
"The challenge in any music class is to present information to certain groups of students, such as the flutes, the trumpets, etc, while keeping the other students 'tuned-in'," MacArthur said, "In an online music class, you have to trust students to manage their attention and avoid being tempted to engage in non-educational distractions. Some students do this well and others are struggling." 
Teachers that teach their students once or twice a week have had different challenges to face. Though their classes are usually fairly short, it's difficult for teachers to move at the same pace as  they would have in person. 
"For online lessons, usually the parents are not in the room and kids have to take notes by themselves," piano teacher Yangwei Situ said. "For younger kids who don't know how to take notes well, it's much more challenging. As long as the kids are motivated, I think they're pretty easy to teach, but it's harder to motivate the kids online."
Teachers are learning at a rapid rate how to adjust their lessons to help differentiate their instruction for all of their learners. The content of the course also makes a huge difference in the quality of the virtual  classes. There are actually a few advantages to teaching theory and textbook classes online.
"Providing resources actually has improved, because the slideshows are available to students all the time," Hopkins said, "and I think that students can read them as they need and they can then write down what they need in their own notebooks. It's actually been better that way because they're always available, so if you miss class, you don't necessarily miss your notes. And without calling a student out by name, you can put their work up on the screen and talk about why it's not right."
Researchers are looking at how virtual instruction is affecting education.
"Sometimes online classes provide more opportunities for students," University of Michigan Associate Professor Xiaogan Liang said. "Teachers can use real-time polls and virtual reality. The current technology has provided a much more convenient way for recording and sharing knowledge when compared to in-person classes."
It's a very different story for the classes that rely heavily on social or physical factors such as band, gym, and PLTW. 
"We can still present information just as we always have but checking for understanding is much more difficult," MacArthur said. " In person we can hear many students at once and use our eyes and ears to judge how things are progressing. In an online class you are limited to hearing students one at a time, which really slows the process down." 
This goes for both group classes and individual instruction.
"Some pieces of music are easier to approach while some are very very hard to teach online,"  Situ said, "Working on technique and theory is much easier than working on things like musicality."
However, presenting the information isn't the hardest part of teaching online. The lack of student reactions and faces is a very common concern among teachers. There are usually only one or two students that turn on their cameras in each class.
"It's so awkward to talk to people," Hopkins said, "You have no face, no reaction, no voice, because the students are muted and have no camera on."
Liang agrees.
"As a teacher of large enrollment classes, I enjoy the real-time communications with my students," Liang said, "Sometimes when I give a funny example of a boring theory, I like to hear students' chuckles or watch their smiling faces. Online teaching cannot provide these aspects, which often disappoints the teacher."
Despite the many challenges of teaching online, teachers are making progress. 
"Participation in online classes is better now heading into the second semester than it was earlier," MacArthur said, "I think teachers and students are just getting more comfortable and used to the feel of being online. My first couple of months being in online meetings were awkward and complicated. Now, things are much smoother. I suspect the same is becoming true for students; there is just a different flow and it takes time to get used to it."
Both students and teachers are eagerly awaiting returning to school so they see each other again. 
"I'm glad that we're doing school this way for the safety of everyone," Hopkins said, "But we're not seeing any faces. We don't even hear little noises because everyone's muted. And it feels  good to see people's faces and hear their voices."
Currently, in-person school return has a tentative return date of April 12.
"I look forward to seeing people in a classroom again," MacArthur said, "Adjusting back to in-person school life will be another challenge we will need to face, but hopefully an exciting step in re-building a sense of community."