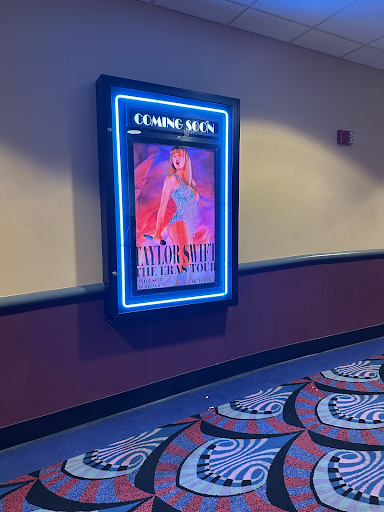 Everybody knows Taylor Swift: she's one of the most popular pop-stars with her ever so loyal fan group, the Swifties. These fans have gone especially wild upon the release of her new movie concert.

Taylor Swift: The Eras Tour was released on Oct. 13, 2023, to the excitement of millions of global fans. The movie, which lasts almost three hours long, is a film adaptation of the pop star's live concert, and will soon be streaming online. Tickets to see the movie in theaters are $19.89 for adults – for her birth year and song album, 1989 – and $13.13 for kids – for her lucky number, 13.

"It's been really popular and I would like to experience how it actually is since I know enough about Taylor Swift and I've heard it was really good," 7th grader Sreshta Arcot said.
The Eras Tour movie will be featuring most of the songs from her tour, however a few have been cut out to the disappointment of many fans. These songs include, "Wildest Dreams," "The Archer," "Cardigan" and "Long Live." The full set list can be found online.

"I think the Taylor Swift movie is a great way to "be at the Eras tour" without paying like $400," Jay Tavane, a 7th grader at Clague said. "I also think it's a great way to introduce people to Taylor's songs to people who haven't listened to them before considering the fact that it's at a movie theater. I think a lot of people would like to watch it and would be pretty interested in it. Personally, I would love to watch the movie because I'm a pretty big fan of Taylor Swift and since I wasn't able to go to her tour it would be a great way to see what happened and be immersed in the experience."
But Swift couldn't have been where she is now without writing her song "Tim McGraw," which was a very important point in her music career. In 2004, Swift signed a music publishing deal with ATV/Sony. She was in her freshman year of high school when she did this, making her the youngest signing in the history of the company. Two years later, in 2006, she signed with Big Machine Records, and then got her first Top 40 hit for "Tim McGraw." And that was clearly only the beginning, with her Eras Tour ticket sales hitting $1 billion – in fact, they are likely to pass 1 billion as worldwide fans grow to love her more and more. And after all, she isn't this popular for no reason – her songs are really amazing, and I would say that this movie is definitely worth watching.