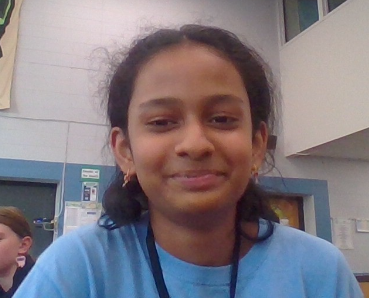 Q: Tell us a little about yourself.
A: "My name is Saanvi and I'm in 7th grade. I love to play tennis and my favorite author is Jennifer Nielson, and I have too many favorite books."
Q: What is your favorite class and why?
A: "Lunch and advisory, because food and we don't do anything in Advisory. "
Q: What hobbies/sports/clubs do you do and why do you like them?
A: "Tennis, reading, karate, writing, and piano. "
Q: What is something you are proud of?
A: "I'm proud of passing a bunch of piano tests, I have no idea"
Q: What's an interesting/unique fact about yourself?
A: "I like to write random stories and even if it's sorta bad I still love doing it. :)"