Clague Science Olympiad Heading to National Competition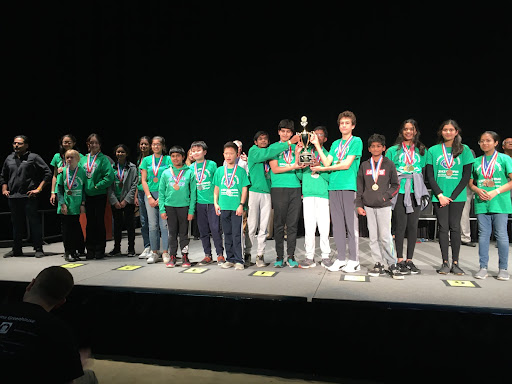 The Clague Science Olympiad team will be competing in the Science Olympiad National Tournament on May 19 and 20 at Wichita State University in Kansas. 
The following 17 team members are traveling to Wichita, KS with the Scioly board members, coaches and parent volunteers to compete in the tournament:
Sounak Debnath – 8th grade
Angad Pal – 8th grade
Rajonya Dey – 8th grade
Anika Raman  – 8th grade
Thisali Bandaranayake  – 8th grade
Lakshya Jaiganesh – 8th grade
Victor Tarca – 8th grade
Michelle Zhang – 8th grade
Srishti Jadhav – 8th grade
Jhanvi Giddu – 8th grade
Paavani Tewari – 8th grade
Kanishka Gupta – 7th grade
Sahan Ihalaranaweera – 7th grade
Jerry Zuo (Alternate) – 7th grade
Claire Svoboda  – 6th grade
Aarav Tirumali – 6th grade 
Edwin Liang (Alternate) – 6th grade
"A 15 member primary team will compete in 23 event categories spanning several scientific disciplines such as biology, chemistry, physics, earth science and environmental science," Head Coach Kapil Gupta said. "These events include lab-based events, where students conduct experiments or analyze data, as well as study-based events, where students are tested on their knowledge of scientific concepts and facts. The competition also includes events that test students' engineering and problem-solving skills. Two alternate team members will also be competing in a trial event called Solar Power."
Every student commits to competing in 3-4 events, each event team usually has 2 students.
"Students attend parent volunteer-led coaching sessions 1-2 hours per week for each event that they compete in," Coach Gupta said. " Additionally they spend an equal amount of time outside of the coaching sessions working with their peers on past tests and self-study." 
On the road the National competition, the Clague Scioly Team had many successes.   
"The team placed first place in the regional competition held at the University of Michigan on March 18 2023 to qualify for the State competition. The team then went on to secure second place in the State competition held at the Michigan State University campus on April 22 to qualify for the national competition to be held at the Wichita State University on May 19-20.