Eighth Graders Are Navigating to Traverse City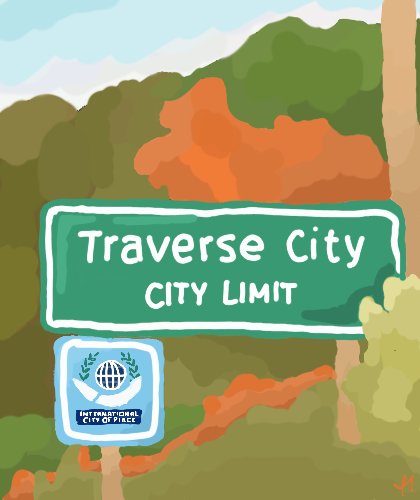 Nearly every year, a memorable trip where eighth grade students can be at their leisure and broaden their academics takes place. This annual trip is a special end-of-the-year outing and in years before Covid where the trip was canceled, this excursion has usually transpired from Washington DC. But after years of inactivity, the well-known eighth grade trip has returned and is now navigating to Traverse City.
Mr. Kryon Harvell has been apart of the planning process for the trip's details.
"I just want to thank the parents, PTSO, staff and students for their dedication and organizing and planning for this trip to the students," Mr. Harvell, the principal of Clague, expressed after the long weeks of preparing the trip details.
In the four months of finding out the logistics and planning an engaging and educational trip for the 205 eighth graders attending, Dr Renee Tall, the head of arranging and organizing details for the trip, as well as others which include parents to students to staff who contributed, created a momentous trip spanning from May 8. to May 9.
Trip Itinerary
Monday, May 8th
7:00-7:30 AM-depart Clague, National Trails CHarter Bus
1:00-3:00 PM, Sleeping Bear Dunes National Park
4:00 PM-8:00 PM Great Wolf lodge, check-in and waterpark
8:00 PM Dinner, White Pine Room, Great Wolf Lodge
9:00-10:00 PM, arcade, board games, cards
10:00 PM- retire to hotel room
Tuesday, May 9th
7:45-8:45 AM Breakfast, White Pine Room, Great Wolf Lodge,
9:30-11:30 AM Ecosystem education at Boardman River Nature Center
12:00-2:30 PM- lunch and explore Traverse City- E Front St. with chaperones
7:00 PM (tentative) Arrive at Clague
Trip Demographics
205 Students (5 per room)

7 Teacher Chaperones (plus 1 Chaperone with expertise in students with varying abilities)

96 Boys and 109 Girls (205 Students)

56 Passengers per Bus (5 Buses)

18 Parent Chaperones (2 per room, each chaperone pays, MD/Nurse) Background Check and Chaperone Application- selected by Clague staff 

7 Individuals Trained in CPR as well as an MD/Nurse

All Forms Must Be Completed and Funds Paid on Time to Attend Trip
"I'm excited to do things with my friends outside of school and spend the night," eighth grader Aya Samaha said. "Due to Covid we didn't get many big field trips while I was at Clague, so I'm glad to get to go on an overnight trip with all my friends before I leave."
Some of the activities that will be enjoyed in the trip start from spending time at the Great Wolf Lodge's waterpark to exploring the streets of downtown Traverse City to a two hour program of being educated on Michigan's ecosystem.
"We hope the students will enjoy themselves," Harvell said, "as this a chance for them to engage in academics and bond with one another prior to going to different high schools at the end of their eighth grade year here at Clague."