Cougars of Clague: Hannah Wen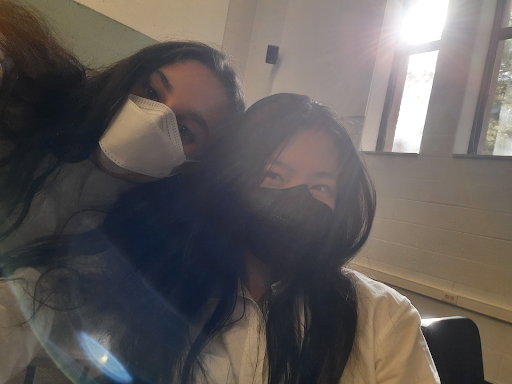 Q: Tell us a little bit about yourself.
A: I'm in eighth grade and I'm 13 years old. I have two sisters, one in sixth grade, and one who is 2 years old. I really like to read in my free time. I also enjoy swimming and trying new things. 
Q: What's an interesting/unique fact about yourself?
A: I really can't think of anything right now, but the most interesting thing within arm's reach of me is a bunch of dried flowers that I picked about a week ago. They still look really nice in my office so they'll be there until they're unpresentable. 
Q: What's your favorite class and why?
A: My favorite class is probably history. It's interesting enough that it's the only class that I haven't fallen asleep in. 
Q: What hobbies/sports do you do and why do you like them?
A: A list of my hobbies/sports are: swimming, training at the gym, reading, writing (every morning!), pilates, viola, piano, programming, cooking, and drawing. There isn't a particular reason why I like them. It's either that I feel really happy and content doing them or because I'm just simply good at them. You usually like doing what you're good at, but the most prolific of my hobbies is doing things that I'm not good at and trying things that I've never tried before. It puts me out of my comfort zone which always makes me feel fulfilled at the end of the day. 
Q: What is one thing you learned from the start of the pandemic?
A: I learned how to change a diaper, how to mix formula, how to hold a baby, etc. It was a really difficult time for me because I couldn't talk to my friends and I had to stop swimming for a long time. Even though I sort of hated changing diapers, I really thank my baby sister for making me feel like I wasn't completely devoid of social interaction. Instead of worrying about never seeing my friends again, I was worrying about when the next time my sister would wake up in the middle of the night. But, if you're talking about virtual school, the only thing I learned was that virtual classes were just so much easier than in person classes by far.