Review: Five Survive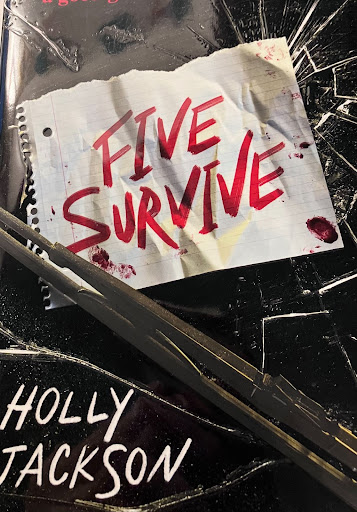 Five Survive by Holly Jackson
" 'One of you knows something. A secret. You know who you are and you know what it is. "What secret?" "That's for the six of you to figure out. And remember one thing: you can't see me but I can see you. If you try to run, I will shoot.' "
-Holly Jackson, Five Survive.
Five Survive by Holly Jackson is a murder mystery about a seventeen-year-old girl named Red. She goes on a road trip for spring break with her best friend and her older brother, his girlfriend, a friend from school, and the guy she wishes was more than a friend. The trip was going great until they made a couple of wrong turns and found themselves with a flat tire in the middle of nowhere. After all four tires end up being punctured, the group finds a walkie-talkie with a person on the other end, telling them to figure out who has the secret he wants, otherwise, he will shoot them. To survive, the group must tell their secrets to find out who has the secret the man wants.
Reading Five Survive was a crazy experience. The suspense, the action, and the close calls had me on the edge of my seat, waiting to see what would happen next. Jackson made me feel like I was actually in the van with Red and her friends, trying to figure out our next move. She made everything said in secrets relevant and helped it all tie together. She basically solved two mysteries at once.
She gave each character in the van different traits that help move the story along. Red is a great friend and is calm in desperate times. At times she can be absent-minded but she makes up for it by making a lot of sacrifices for her friends and looking out for everyone. Red and her friends are great characters to root for throughout the book and at the end, you will see that their character development changed a lot.
If you enjoyed other books by Holly Jackson such as The Good Girl's Guide to Murder trilogy, or books by Natasha Preston such as her #1 thrilling bestseller The Fear, you would definitely love this book. You can find this book on Sora, the Ann Arbor District Library, or a local bookstore. I would recommend this book to anyone who loves murder mysteries, action, suspense, and strong, powerful characters. I would give this book 5/5 stars because I was eagerly turning the  pages, trying to figure out what happened next.