Cross Country Team Runs a Spectacular Season This Year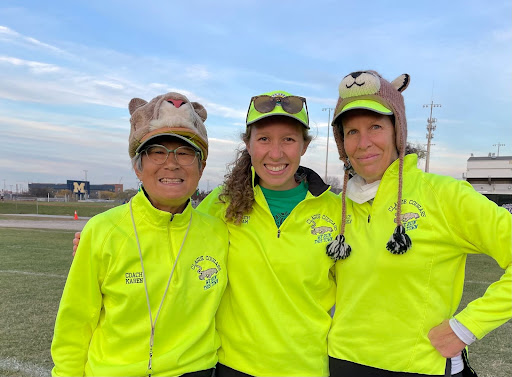 Anna He, Staff Writer
December 5, 2022
From September to the end of October, Clague cross country runners challenged their bodies and minds, persevering with running practice every week, along with participating in two cross country meets with other middle schools.
"We had about 160 [runners] to start with," Coach Michelle Machiele said. "The numbers fluctuated, but interestingly, every week for probably the first six weeks, we had more students joining. So, some students left but more students kept joining. We would just have more students every day for a while."
In addition, Coach Laurel Boelens, who is Machiele's daughter, also joined the team. She is a former Clague student who has a passion for running. Her experience as a nurse practitioner helped the students with injury management, like when students had aches and pains such as sore knees or shin splints. She was able to work one-on-one with them, talking them through what the injury was and what to expect as you grow.
"It was really good to send the students, direct them to Coach Boelens when they had an injury," Machiele said. "That was a really great aspect of having Dr. Boelens with us. It was just such a pleasure to have my own daughter join us as a coach."
The team improved greatly during the season, with many students improving their rank from the first meet to the second.
"This was probably one of my favorite seasons," Machiele said. "The team had so much energy and enthusiasm, and it's really a joy to coach with Karen Yamada and my daughter. And the students did really well."
The cross country community, in addition to improving their running skills, also learned to work as a team. Everyone was encouraging and helpful to each other while running together.
"You can't fake aerobic endurance, and the ones that showed up and participated all grew as runners and as people," Machiele said. "There's a lot of different ways to measure growth, and learning to be on a team is really important. Coach Yamada has always said it's not about winning, it's about your personal improvement. So we don't really measure the team as 'We have to win against some other middle school.' It's really that we want you to have an individual growth experience, learn how to be a runner, take good care and listen to your body, and help your teammates."
For the team, the smallest things brought the most joy during the season.
"We've had some really fun times with the kids, and I think that's the thing that is such a joy to us," Machiele said. "One of our runners ended up with a size shirt that was really too big for him, and he was so good about tucking it in and wearing it anyway. It is those little moments of joy that are memorable and kind of give the situation levity. Because cross country is not an easy sport. But it is fun when funny things happen — not making fun of each other but just having fun together."
The runners participated in a meet on Oct. 27 and the season has ended on a high note.
"This season has been a wonderful experience," Machiele said. "Mr. Copeland and the administration being a wonderful athletic director for us, us as coaches, parents — very enthusiastic and supportive, students — coming, working hard, and encouraging each other. The whole team has been really delightful."
Winter Running Club will also be available to meet on Tuesdays and Thursdays starting Tuesday, December 6th. There will be more fun activities to come such as long-distance running, sledding and parties. Any new runners are welcome to join.
"Just know that our team slogan is 'The race is not always to the swift, but to those who keep on running,'" Machiele said. "So cross country really is a lifelong sport — you need a pair of tennis shoes, nice if you have a friend with you, but just enjoy growing as a person. It's a really fun sport. It'll last your whole life."
Contact Cross Country Coaches: [email protected] and [email protected]