Review: The Miscalculations of Lightning Girl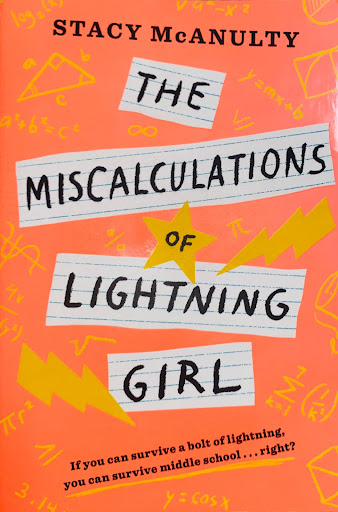 The Miscalculations Of Lightning Girl by Stacy McAnulty is a fast-paced engaging read, reminding us not to be afraid of who we are.
The Miscalculations Of Lightning Girl is about a girl, Lucy Callahan, who got struck by lightning at the age of 8. Because of this incident, a part of the left lobe of her brain completely stopped working and the other lobe started working overtime. As a result, she has genius-level math skills, obsessive-compulsive disorder, and has been homeschooled since then. Now, at the age of 12, Lucy is practically ready for college; she just needs to get past middle school! 
Lucy's grandma insists that Lucy goes to middle school for one year, makes one friend, joins one activity, and reads one book. Lucy isn't sure what a girl who does math homework for fun could possibly learn in the 7th grade. But at school, she makes 2 new friends with whom she works on a school project and meets a dog whom she loves, but cannot keep. In her middle school journey, Lucy learns that school is more than just school subjects, and starts enjoying it. She learns lessons such as how to be a good friend, and how to maintain friendships.
When I first saw the book, I wasn't so sure about it. It looked like a book that was too young for me and I wouldn't enjoy it, but when I started reading it and got through the first chapter, I was drawn into it and couldn't stop reading. The details in the story made vivid images in my mind and made me feel as if I was a part of the book. It was interesting to see how Lucy adapts to a world outside of her house, how she solves her problems in middle school that she would have never encountered if she hadn't gone there, and all the good experiences she comes across she would never have got to experience.
This is a great book for anyone who enjoys realistic fiction. The book follows a fictional plot but includes lessons and characters that apply to real-life that we all can learn from. Readers who enjoy books such as The Fourteenth Goldfish, Rain Reign, and Counting by Sevens may find this book enjoyable. I loved this book and I would give it 5/5 stars because I could not put it down.