Science Olympiad continues strong while virtual
The Clague Science Olympiad team participated in the UM Invitational on Feb. 20, 2021.
"There were a total of 18 events, and team Clague Cougars got in top 10 in 10 events. Overall team cougars got 8th place," Clague Principal Ché Carter congratulated. 
In January, Clague Science Olympiad team was one of 39 teams from all over the nation participating in the Science Olympiad Invitational COBRA hosted by Birmingham Covington School in Bloomfield Hills, Michigan.
Clague students placed in the top 10 in 16/19 events. A total of 27 kids in two teams (Clague Cougars and Clague Pride) participated in this competition. Clague SO teams participated in 19 out of 22 events and team Clague Cougars ranked 10th overall, Carter announced. 
Science Olympiad, one of the premier American team competitions for science, was founded in 1984. There are multiple levels of competition: invitational, regional, state and national. The culmination of nearly 300 Regional and State tournaments — and about 165 practice Invitationals! — is the Science Olympiad National Tournament.
In grades 6-12, Science Olympiad functions much like a football or soccer team, with a team of 15 students participating in 23 events pertaining to various scientific disciplines, including earth science, biology, chemistry, physics and engineering. It requires dedicated preparation, commitment, coaching and practice throughout the year.
In Clague Middle School, the Science Olympiad club is an after school club supported by the school and parent volunteers. 
"Currently, parent volunteers are coaching 19 events and preparing two teams for invitationals and regional," Clague Science Olympiad Advisor Priyanka Meharia said. "This year we have 24 students from 6th, 7th and 8th grade in the Clague-Scioly club and all the classes are happening online due to pandemic conditions." 
Clague Science Olympiad members also participated in MYSO (My Science Olympiad)  this year. MYSO is a new program that complements Science Olympiad's traditional US tournament structure. 
"7th Grade Student Tanay Panja placed 6th in Anatomy and Physiology in MYSO national tournament in January 2021," Meharia said.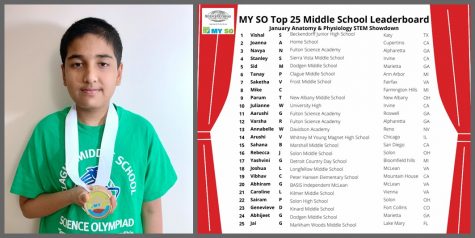 The participants answer online multiple-choice questions demonstrating understanding of anatomy and physiology. 
"The exam itself is very difficult. With only 50 minutes for 120 questions, it gives very little time for every question and makes the competition even more nerve-wracking!" Panja said. 
"To prepare for the test, the MYSO gives study materials about the subject," Panja said. "You would go through the reading materials, memorizing every fact that might be mentioned in the test. However, many questions were not in the study materials provided by the MYSO organization. In order to be successful, one has to find and practice a lot of questions from the internet!"
Unlike the traditional Science Olympiad, MYSO is individual oriented and is available to all middle and high school students who love STEM and want to stay engaged in learning.
"I feel like MYSO is a challenging competition among the nation's brightest middle-school students," Panja said. "With hundreds of participants, there is excitement in the air on who are going to be the top winners! Nevertheless, MYSO is a great learning experience for learning different topics every month and broadening your understanding of science."
There are still more competitions that Clague Science Olympiad members plan to participate in the rest of this school year. Despite the Covid-19 Pandemic over the past year, the activities at Clague Science Olympiad are going strong.
Anyone interested in Clague Science Olympiad Club, feel free to contact the official email ([email protected]) directly. For more information about the club, see the club's website.