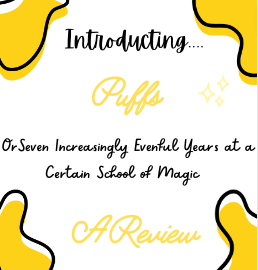 Calling all Harry Potter fans – and non-fans! Did you read Harry Potter? Are you done watching it and listening to it? Are you done obsessing over it and raging over it and changing your lifestyle because of it? Well, Potter fans, introducing… Puffs written by Matt Cox!
A parody of the Harry Potter series, Puffs tells the famous story we know not from Harry Potter's view, but from the perspective of the "Puffs" – or the Hufflepuffs, and it ensures that you will never watch or read Harry Potter the same again.
"I like Puffs because it's this story of the house that never gets seen, the Hufflepuffs," Clague 7th grader Chiara Christensen said. 
Puffs is a hilarious play, following a new Hufflepuff Wayne, played by Mike Fox, and his two friends, Megan and Oliver, played by Elena Rinne and Brandon Clark, throughout his seven years at school. 
"The play constantly makes fun of Harry and the Gryffindor house, like Ron and Hermione are mops, while Harry's a girl!" Christensen said. "You're always laughing at every little twist that they put in! I would recommend it to everyone who loves and hates Harry Potter."

I would give Puffs 4.5 stars because it was worth the watch, and I know that I will never read/watch Harry Potter the same again. Outstandingly written, and filled with twisted Harry Potter scenes and characters, with jokes around every corner, I would recommend Puffs to anyone out there who's interested. And you don't have to be a Harry Potter fan to enjoy it – in fact, you don't even need to have read the series or watched any of the movies to laugh along. Though it may have a few scenes that would be considered inappropriate, you still should watch it nonetheless, and I promise you, you won't regret it. You can find Puffs on Amazon Prime.