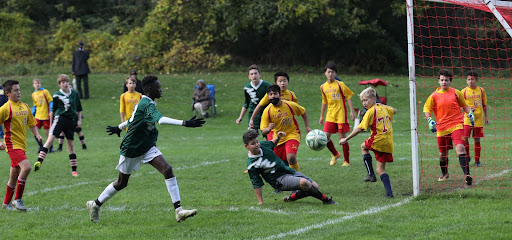 Courtesy of Benson Liang
The Clague 7/8th Grade Boys' soccer team has just finished their fall season. The 2021 season was special. Since the season before was cancelled due to COVID-19; there was high interest in joining this year's soccer team, especially from the eighth grade students. The team was formed after a week of tryouts, with no one playing in the Clague soccer team before.
"I wanted to join the team this year because I didn't get to do it for my seventh grade year due to the pandemic," eighth grader Thomas Ewy said. "And I wanted to participate in my final year at Clague Middle School."
There are other reasons students were interested in joining the team.
"Besides being my last year in middle school, it was also fun to meet with new people," eighth grader Limamou Seck said.
During the season, the Cougars played a total of eight games against five other schools: A2 steam, Forsythe, Scarlett, Slauson, and Tappan. For the final game, the Clague played against the Slauson Golden Bears, and ended with an intense 1-1 tie. 
"Slauson was the strongest team because they had a couple really good players, and they always played well," eighth grader Noah Zahuranec said. "But I think that we played decently against them in the last game."
Indeed, but that was not from the beginning of the season. In fact, the Cougars had a rough start for the season. In the first few games, Clague lost to Tappan and Slauson. As more games were played, players got more experience as a team and started getting better than before. The Cougars ended the season with 4 wins, 3 losses, and 1 tie.
"The team improved very much," coach Emily Judkins said, "because in the beginning, students really didn't know each other well, so they didn't trust each other enough on the field."
Judkins coached the sixth grade boys and girls' soccer team in the fall of 2018, the 7/8th grade boys soccer team in the fall of 2019, and has played soccer for more than 11 years.
Practice also made a change in how the team was performing. Judkins arranged practice sessions that included training with shooting, passing, corner kicks, and team coordination.
"They started communicating more, and started playing so well that anyone could score and save the goals," Judkins said. "Everyone was working together very well towards the end of the season." 
Despite the team improving in many aspects, there were still areas the team needed to work on.
"I think that the team needs to practice more on passing, defending, and cooperating," seventh grader Ashutosh Mehta-Rueger said.
As the 2021 soccer season concluded, the experience will be carried on to the next season.